Pipeline Repair For Active Leaks
Pipes can deteriorate over time, and may eventually spring a leak. When a pipe bursts in your house it can cause a lot of damage. A burst pipe on the main system can cause damage to property, put people out of homes and even close an entire area of a town and roads for a number of days. This can leave people without water and even homes for days. You can call the best pipeline experts around but you already have the leak so what do you do? Go online and look at these websites that are poorly put together and you hope they do not do that with fixing your house. You think, well, they have the lowest prices but their quality is terrible when it comes to their website. I really hope that our house isn't fixed that way.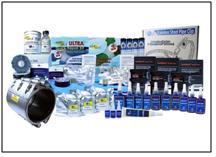 SealXpert Products is an ISO certified company offering a range of proven products for pipeline repair, maintenance and overhaul services. These products eliminate or minimize the costs of plant and equipment downtime.
Our range of maintenance and repair products are used for pipe leak repair, corrosion repair and protection, composite repair and rebuilding, corrosion and wear coating, pipeline repair and rehabilitation, etc. Each of the products is engineered to be applied on many applications.
Our products are used in the various types of industries such as oil and gas industries, petrochemical industries, building and facilities management, offshore operations, chemical industries, marine, power generation, water distribution, waste water management, pharmaceutical industries, pulp and paper industries and manufacturing plants.
We are based in Singapore and our products are widely distributed in Asia, Europe, Middle East, America, Australia and Africa. For leak repair, we have big range of product that will suit every case of your leak.
Our leak repair products are:
1. Wrap Seal Quick Repair Kit for Pipe Leaks
2. Wrap Seal ULTRA Quick Repair Kit for Active Pipe Leaks
3. SealXpert Ultra Sealing Tape
4. SealXpert Stainless Steel Pipe Clip
5. Wrap Clamp WC1/WC2 Leak Repair Clamps
6. SealXpert Repair Patch
7. SealXpert Expanded PTFE Tape
8. Composite Repair for Pipe and Tank Leaks Reinforcement.