Metal Putty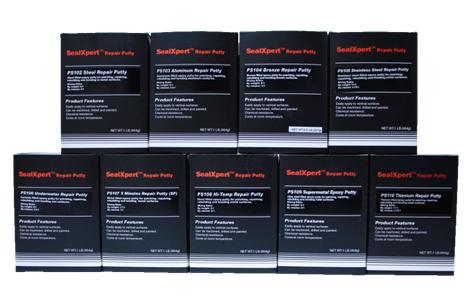 SealXpert Metal Putty is a two component, ambient-temperature curing epoxy putty. The metal putty is suitable for a wide application range, convenient-to-use, non-sagging with high bond strength.
SealXpert Metal Putty consists of two components (resin & hardener) each separately packed. The resin container is slack filled to allow the addition of hardener to be mixed with resin. It is critical to mix the metal putties thoroughly and in proper ratio to achieve the performance of the material. Whenever possible, the complete container should be mixed at one time. If the material is to be mixed in separate batches, the user must be careful to adhere to the mixing ratios specified on the product label.
The material is mixed by adding hardener to resin. The mixing process is complete when the product is free from streaks or other variances. Failure to thoroughly mix the material will cause soft spots or overall failure of the product. The mixing process should take at least 3 to 5 minutes.
When mixing large masses of metal putties (more than 500 grams), place both the resin & hardener into a clean disposable container. Mix and knead material with a putty knife or other flat tool until the product is thoroughly mixed. Do not fold material into the mix as this process can cause air entrapment that will weaken the cured product.
When applying SealXpert Metal Putty at higher temperature and mixing more quantities of each component, it will shorter the pot life. On the contrary, lower temperature and mixing less of each component will length the pot life. In the case of temperature below 10°C, it is recommended to preheat the repair surface. A fast cure may be obtained by heating with infra-red bulbs, heating pads, electric heater or open flame held close to the repair area. Any type of extra heat will increase the curing speed. In the case high temperature, reduce the mixture of each component to shorten curing time.
The pot life or working life of SealXpert Metal Putty may be extended by pouring the contents into large surface area shallow container. The pot life can also be extended when putting the shallow container on ice or in cold water.
The viscosity of SealXpert Metal Putty increases with lower temperature and decreases with higher temperature. To change viscosity in cool weather, warm the product slightly; to reduce the viscosity in hot weather, cool the product slightly.
SealXpert Metal Putty can be machined after cured and it has good corrosion and chemical resistance.
SealXpert™ metal putty is a high performance metal-filled epoxy putty. They are the best choice for repairing holes, cracks and defects. SealXpert™ metal epoxy putty is quick-curing and cost-effective in returning worn-off parts or equipment back to service.
SealXpert
Metal Putty
Variants
PS102 Steel Repair Metal Putty (A)
Metal-filled two component epoxy metal putty
Bonds to most metals, concrete and some plastics
Cures at room temperature
Can be drilled, tapped, machined or painted
Excellent resistance to oil, gasoline, water and chemicals
Ideal for patching and repairing areas where welding or brazing is undesirable or impossible
PS103 Aluminium Repair Metal Putty
Aluminium-filled two-component epoxy metal putty
Repairs to non-rusting aluminium castings, machinery and equipment
Excellent resistance to chlofluorocarbons
Bonds to aluminium and other metals
Fills porosity in aluminium castings
Can be drilled, tapped, machined or painted
PS104 Bronze Repair Metal Putty
Bronze-filled two-component epoxy metal putty.
Repairs to bronze and brass bushings, shafts, castings and parts
Repairs and rebuilds area where brazing is undesirable or impossible
Bonds securely to bronze alloys, brass, copper and ferrous metals
Can be drilled, tapped, machined or painted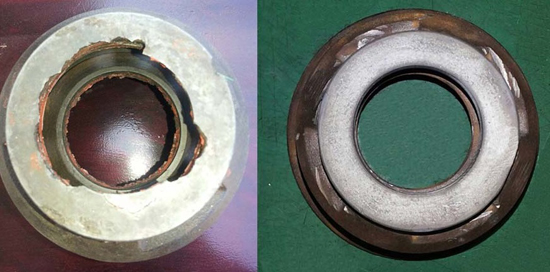 PS105 Stainless Steel Repair Metal Putty
Stainless steel-filled two-component epoxy metal putty
Patch, repair and rebuild stainless steel parts and equipment
Bonds to ferrous and non-ferrous metals
Non-rusting
PS106 Underwater Repair Metal Putty
Ceramic-based two-component epoxy metal putty
Suitable for moist and wet conditions
Excellent resistance to oil and chemicals
Bonds to metallic and non-metallic surfaces
Fills porosity and cracks on valves and pump bodies
Can be drilled, tapped, machined or painted
PS107 5 Min (SF) Repair Metal Putty
Fast-curing
Stainless steel-filled two-component metal epoxy putty
Suitable for quick and emergency repairs
Cures in less than one hour
Can be drilled, tapped, machined or painted
PS108 Hi-Temp Repair Metal Putty
Withstands high temperature up to 230 °C (446 °F) (continuous) and 280 °C (536 °F) (intermittent)
Nickel alloy-filled two-component epoxy metal putty
Suitable for engine parts repairs
Can be drilled, tapped, machined or painted
PS109 Supermetal Epoxy Metal Putty
Alloy and ceramic filled two-component epoxy metal putty
Excellent hardness
Cold welding repairing material
Versatile durable repair composite
Outstanding adhesion to all metals
Excellent corrosion resistance
Superior chemical resistance
Can be drilled, tapped, machined or painted
PS110 Titanium Repair Metal Putty
Titanium filled two-component epoxy

metal putty

High performance
Excellent chemical resistance
Withstands heavy loads in harsh chemical environments
Can be drilled, tapped, machined or painted
WR204 Wear Resistant Coating
Ceramic microsphere and silicon alloy filled two-component epoxy coating
Suitable for application on vertical surfaces
Coating has strong adhesion and excellent properties of wear and impact resistance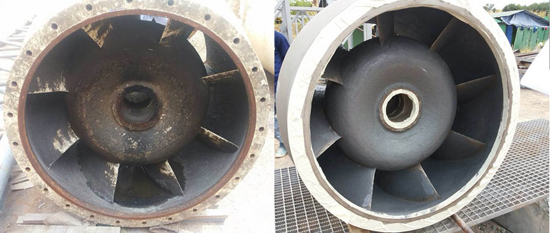 WR211 Corrosion Resistant Coating
Composed of modified epoxy, wear resistant ceramic and crystal mineral powder
Thixotropic viscosity, suitable for application on vertical surface
Excellent resistance to strong alkali and acid